34's Pre-distribution of Winter Knights blankets in the Damaraland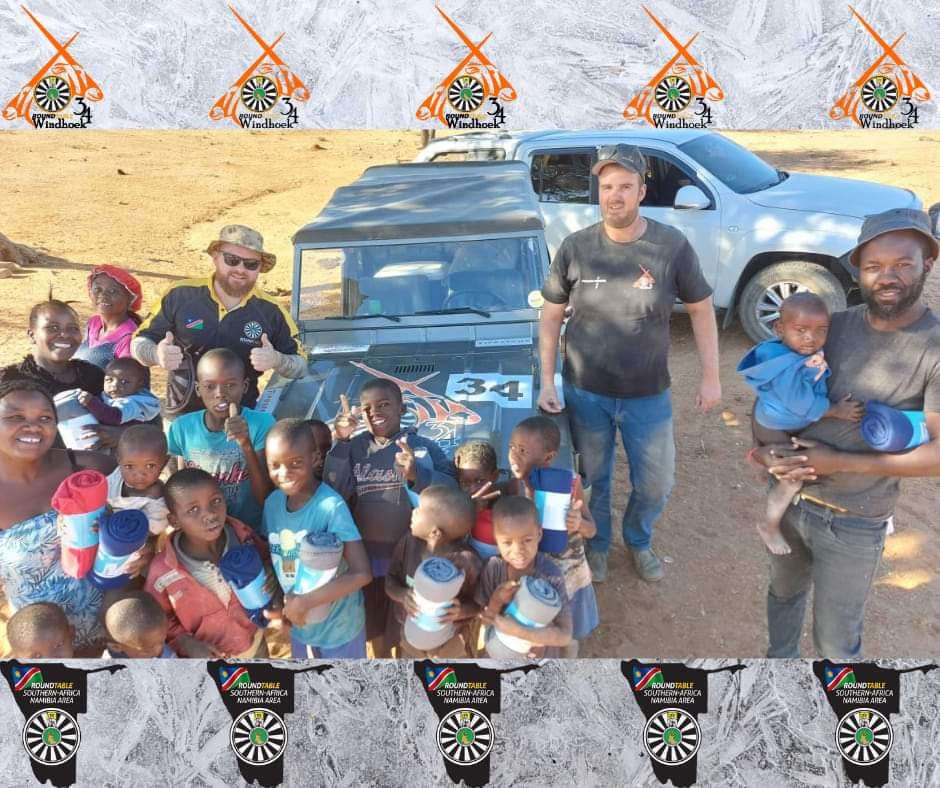 There is an annual rally event in May spanning over several days known as the Rough and Tough Rally which is open to the public to raise funds for the Cancer Association of Namibia (CAN).
This year Daniel Leicher and Werner Wormsbächer took part in this rally on behalf of 34 and you can read all about that in a separate article. Since the rally took place in the remote north-central part of Namibia, the beautiful Damaraland, it was decided to do a pre-distribution of blankets in this area by the aforementioned duo.
On the 18th of May 2023 whilst enroute to that day's checkpoint the 34-racing team in their 1978 VW Iltis came across a village with many children. The area is so remote that there is no electricity, neither is there running water and it isn't close to any of the decent gravel roads either.
Daniel and Werner took along 34 blankets on their adventure which were handed to 34 of the village's residents, predominantly children, to make the upcoming winter more bearable and to create awareness for June's upcoming Association-wide Winter Knights campaign of Round Table Southern Africa. The value of the blankets was N$ 2,720.
Round Table Walvis Bay 36 also took part in the rally and they too distributed blankets.
As there were over 50 teams that participated in the Rough and Tough Rally with entrants from all over Namibia and operating in various sectors of the economy, the traction and awareness for both Round Table and Winter Knights was ensured.
Windhoek 34 has every intention to partake in this rally next year and also hand out more blankets in these remote areas in 2024.