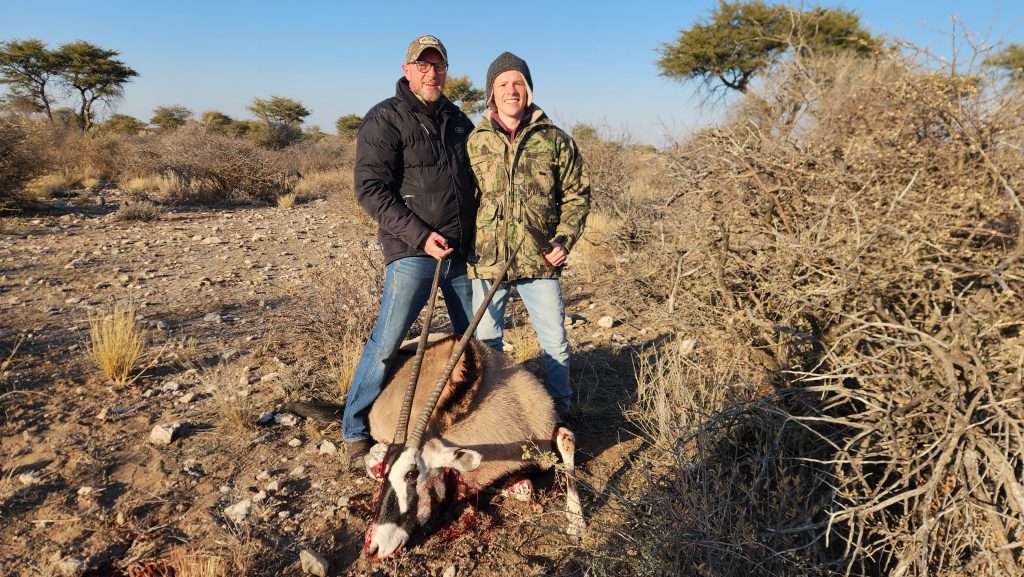 Yes, the title stems from the lyrics of Appel's song and was repeatedly played during the 2023 Hunting Boogie in July. One could say it is the new hymn of this fellowship project.
At 14:00 on a mild Friday in mid-July the attendees met up at Kappsfarm Padstal to hit the road to the farm where we'd be hunting for the weekend.
It was particularly great to have so many 41ers be in attendance who brought their sons. They will hopefully become Tablers in the future when they are of age and ready to take over the legacy. In addition, we had Romano from Round Table Welwitschia 213 attend too who proved to be a great sport the entire weekend.
A mere +/- 150km outside of Windhoek we quickly arrived at the farm just outside of Witvlei and waited a few minutes for Ernst to join. He made the lengthy journey all the way from the coast.
The farmer, Des, greeted us and the gunsmith afficionados amongst us unpacked their rifles and did some target practice on the shooting range just before sunset. Once all of them were satisfied with the accuracy and respective scope settings, we made our way back to the farmhouse. Upon our arrival we bore witness to the birth of a new calf which, something that many hadn't seen before.
We unpacked and had a pleasant evening with chilled beverages and a proper Suidwes braai. Without exception everyone was indulging in the fellowship and it proved to be a good night.
Early on the Saturday morning our tribe was split into two troops as all wouldn't fit onto a single bakkie. The vehicles drove their separate ways and it wasn't long until Neville's oldest son, James, aimed his rifle on a buck in a troop of oryx. Locked in he pulled the trigger and the first of two antelopes for the day was acquired.
Not too long thereafter we were notified that our pipeliner Décee who was on the other bakkie has successfully hunted a Hartebeest.
Before the sun got too hot during midday, we offloaded the antelopes for slaughtering and enjoyed some boere rolls and fresh liver for lunch.
In the afternoon we made another attempt at hunting but remained unsuccessful. Darn it!
A day in the sun can become tiresome so we opted to light up a fire and braai some meat and discuss our adventures we had just embossed in our memories. In good spirits we had music playing and bonded to become even closer. This is what makes Round Table so special. The fellowship forges bonds stronger than steel.
Thank you to all who attended and in particular to 41er Philip who made all the arrangements and in doing so guaranteed the success of yet another great fellowship weekend.